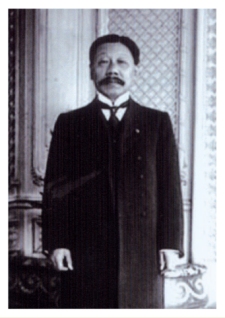 HU WEIDE (1863-1933)
Hu Weide was a prominent politician and diplomat in the governments of both the late Qing Dynasty and the early Republic of China. He was intimately linked to the early-modern history of Chinese diplomacy, so described as China's period of 'weak diplomacy.' Further associated with the liberal influence of the Zhejiang area, Hu Weide was a notable graduate of the Shanghai Interpreters College, and was known as one of the first Western specialists with the ability to speak English, French and Russian.
Over his career, Hu served as ambassador to Russia, Japan, and France, and represented China at the Permanent Court of International Justice.
He also served as Foreign Minister in the cabinet of Yuan Shikai, then Interior Minister and Acting President and Premier of the Republic of China.
Also of note, Hu served as a member of the Chinese delegation at the Treaty of Versailles and The Hague Peace Conference in the aftermath of World War I.
Having held many offices over the course of his long career in public office, his value can be judged by his influence on persuading the late Qing Government to relinquish power in favour of the new Republic.
Translators: Mr Alastair Morrison, Dr Christopher Neil Payne.
Please note: Original Chinese text includes numerous and detailed footnotes not included in the English translation. Please consult the Chinese version if necessary.
To download click here.